I have never really liked robots as most of them only perform well in either a ranging market or trending market and you end up getting smashed when the market conditions change.(Plus there is no substitute for educating yourself and being in control of your own trades)
So when i saw what Forex MegaDroid claimed it could do and saw that it had a 60 day Money Back Guarantee, i thought i may as well just pay the $97 USD and see for myself if it can do what it claims.
So i purchased it yesterday and i must admit it was very easy to set up and even if you haven't traded before they even show you how to set up your demo account and exactly how to place the different files for the robot onto your computer.
After 10 minutes i was set up and about 30 minutes ago it took it's first trade, here is a screenshot and i will post another screenshot when it has finished.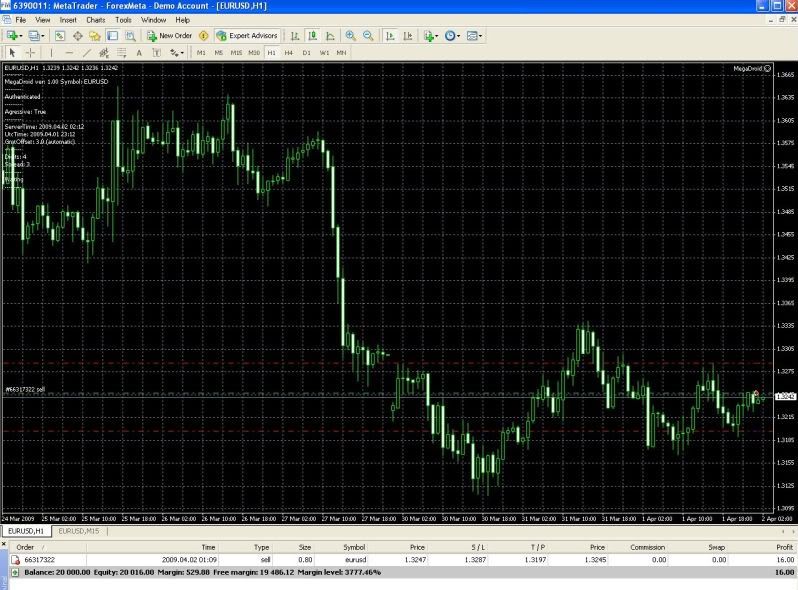 I will do this everyday and we will see what it does to the $20,000 demo account.
Here's the link:
http://free-page.net/web/ForexMegaDroid.htm
GP
PS: I don't know if i caused it to close or not, i put a candle timer on the chart and the robot's status went from running to waiting and closed the order soon after for a 7 pip profit, i'm not sure though it may of closed it there anyway.
PPS: The support so far has been very good, i received an email today from the owners explaining the best way to get any questions answered and they explained a bit more about the robot.